HELP! I CAN'T SCAN MY MIGHTY JAXX PIECE!
You will need to have a NFC-enabled phone.
If an Android device is used, please turn off developer mode.
Here's how you can better scan your piece(s):

1. Your toy would come with an authentication insert card in its packaging, it should look like this: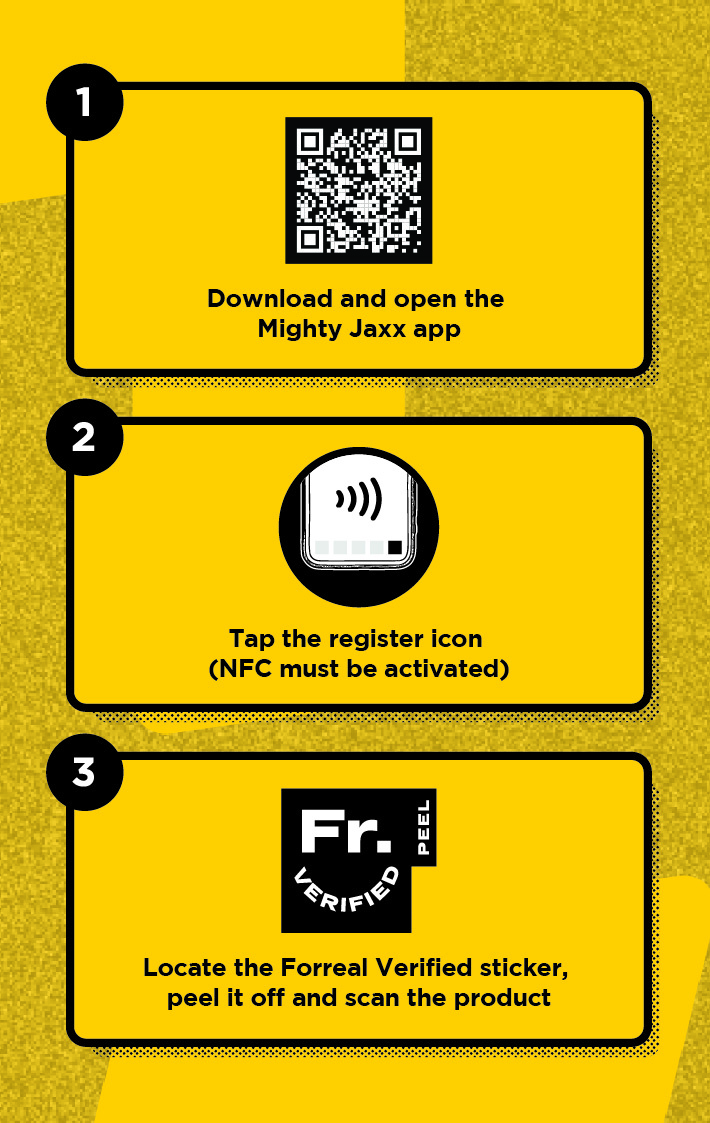 2. If you can't find your card, don't worry! You can find our online tutorial here.
3. The FORREAL sticker must be removed in order to scan the chip - please peel the sticker prior to scanning.
4. If it isn't already on, turn on the NFC reader on your phone in the settings menu of your Android or iOS device.
5. Align your phone's NFC reader with the chip to scan your Mighty Jaxx piece.
6. If you're still having trouble scanning your Mighty Jaxx piece, try to scan near where you peel the sticker off. The chip may have shifted slightly during the manufacturing process.
HOW CAN I CHECK IF MY MIGHTY JAXX PIECE IS EQUIPPED WITH AN NFC CHIP?
All Mighty Jaxx pieces include an authentication insert card as well as a FORREAL sticker at the bottom of the toys. If your Mighty Jaxx piece had this insert card and sticker, then your piece is equipped with an NFC chip.
I'VE TRIED EVERYTHING AND I STILL CAN'T MANAGE TO SCAN MY MIGHTY JAXX PIECE.
If you've tried all the tips listed above, please reach out to us here.
I ALREADY/HAVE YET TO REGISTER MY MIGHTY JAXX PIECE, BUT I THINK THERE IS A DEFECT, CAN YOU HELP ME?
We are sorry to hear about this! To better help us, we'll need you to locate your piece's UUID number on the app. The UUID number is the NFC's unique ID, and we'll need to retrieve this in order to help you process a potential replacement.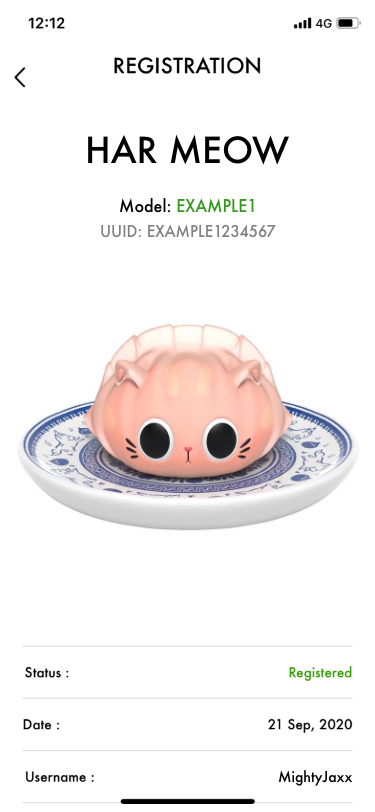 Once you retrieve this UUID, please contact us here.
I CAN'T FIND THE UUID NUMBER
Please follow the following steps to find your UUID:
1. Download the Mighty Jaxx app from the Apple App Store or Google Play Store.
2. Click on the Black Tab with the "+" to activate the NFC scanner. To use this feature, your phone must have the ability to scan NFC tags.
3. Locate the chip by finding the Forreal sticker on your item.
4. Peel off the sticker and place the tip of your phone over the area to scan.
5. Once the item is scanned, you should see product details of the Certificate of Authenticity. Please click the top left back button to reach the page with the UUID number. The UUID number is located under the Model number.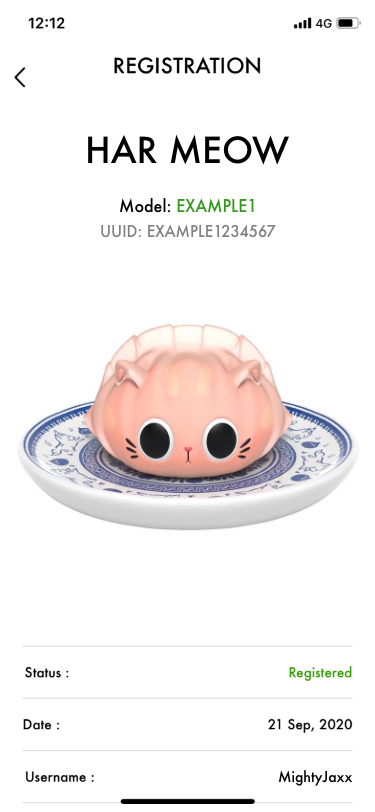 If you are still having trouble finding your UUID number or can't see the UUID number, please contact us here.
Occasionally, we may amend this FAQ without any prior notice. We advise our customers to review this FAQ periodically to be updated of any changes. By your continued use of our site and services, you consent to our Terms of Service and any changes that may be made from time to time.