Your Guide to making a Polygon Wallet!
Hello, future crypto enthusiasts! We made this quick and easy guide for you to set up a crypto wallet to transact on the Polygon chain. This is a relatively simple and painless process, but it does include some important information that you should never disclose to anyone for the safety of your funds.
Let's begin:
In order to start transacting with crypto and purchasing NFTs on Polygon, you will first need to create a crypto wallet. This ensures that your funds and digital assets belong to you and no one else.
We are going to create a crypto wallet using the popular application MetaMask. The default chain for MetaMask is Ethereum, but we will be able to enable the Polygon chain for you to purchase NFTs on that network. The reason why we are using Polygon is because Ethereum is known for high gas fees that can be very expensive to a first-time collector.
As such, we have decided to launch NFTs on alternative chains to reduce the cost of these gas fees and provide better value to you, as well as all our holders.
1. Download the MetaMask extension on Google Chrome, (for PC/Mac), or the MetaMask app on the Apple App Store/ Google Play Store (for mobile devices).
2. Once the app/extension was downloaded successfully, you will see this pop-up screen on either your Chrome browser or your mobile device.

Setting up your wallet:
1. If you are new to MetaMask, click on "Yes, let's get set up!" to begin creating your wallet.
2. At this point, ensure that you have a pen and paper handy to take down the following details you will be asked to create. Never share your password/ seed phrase with anyone, and try to store these details offline because any data breach will result in a compromise of your account and funds.
3. You will be asked to create a secure password to access your wallet on your browser without the need for your seed phrase. Likewise, jot down your password alongside your seed phrase so that you don't forget it.



4. At this point, you can watch a quick MetaMask tutorial on securing your crypto wallet. This is a very important video that will help you understand why these details are so important in the event you need to recover your funds.
5. Following which, you will be prompted to take note of your seed phrase/ Secret Recovery Phrase for future log-ins. Never reveal your seed phrase and do not share it with anyone. We will recommend to log this down on that piece of paper and store it someplace safe for future use.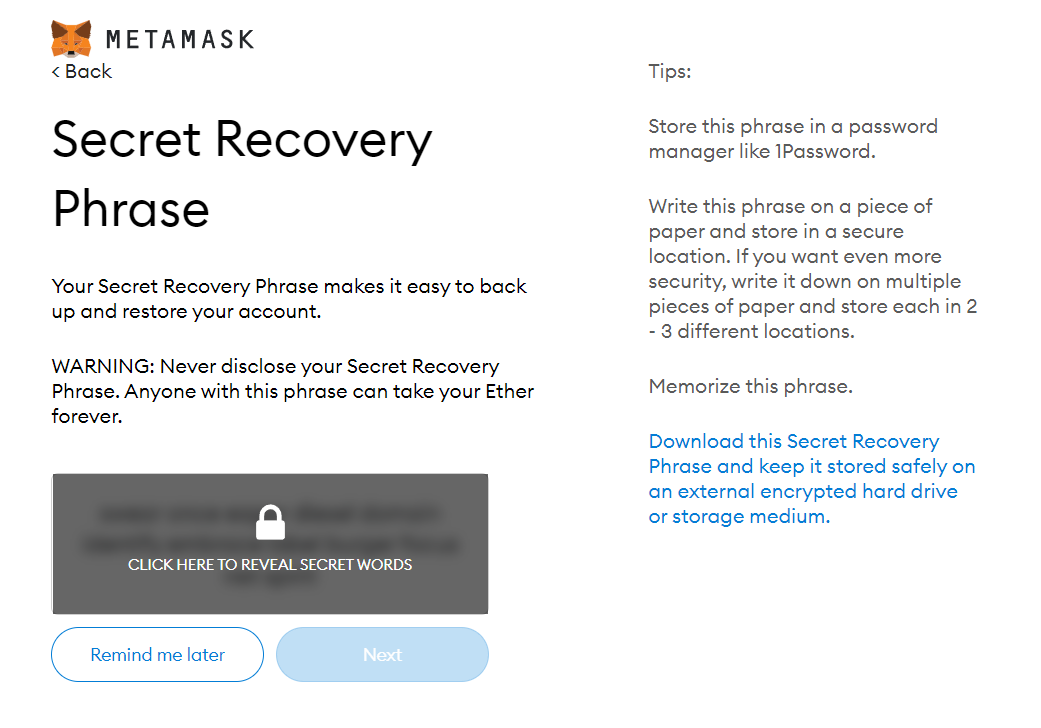 Adding the Polygon chain:
Congratulations! You now have a default Metamask Wallet set up for the Ethereum chain. We will now need to add the Polygon Chain onto this wallet, so you can enjoy gas-free non-fungible fun!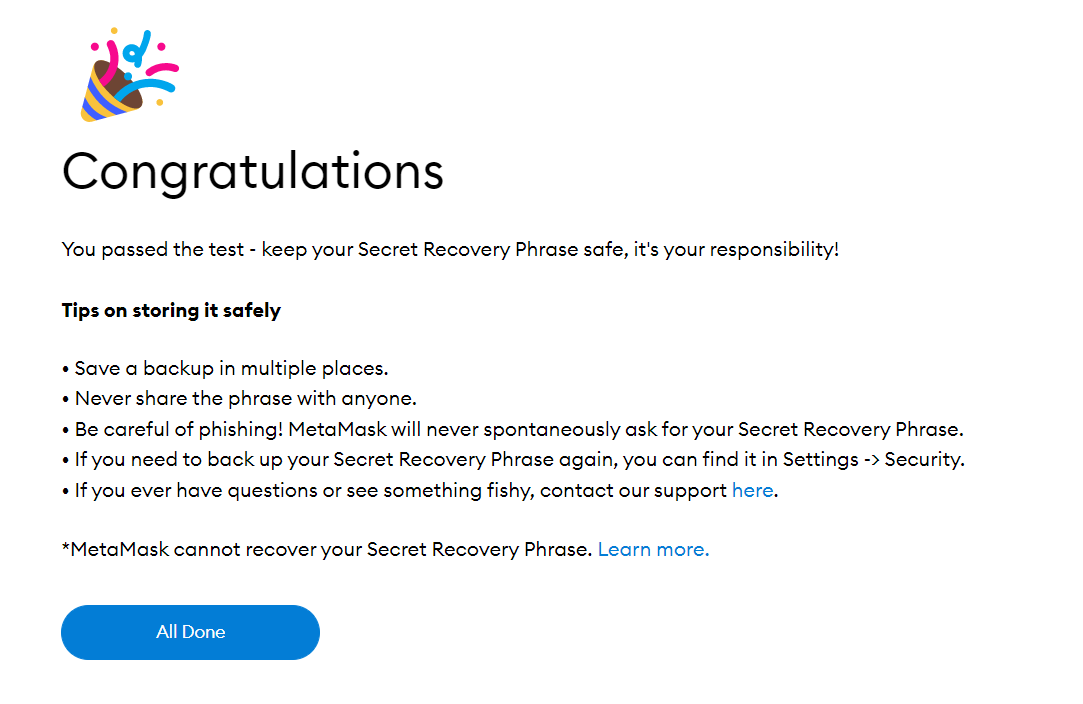 1. Click on the "Ethereum Mainnet" button on the top right corner, and select "Add Network":
2. Then, input the following details in the screenshot below in the respective fields:

3. Once everything is filled in, click "Save".
4. Your wallet should now look something like the following screenshot below: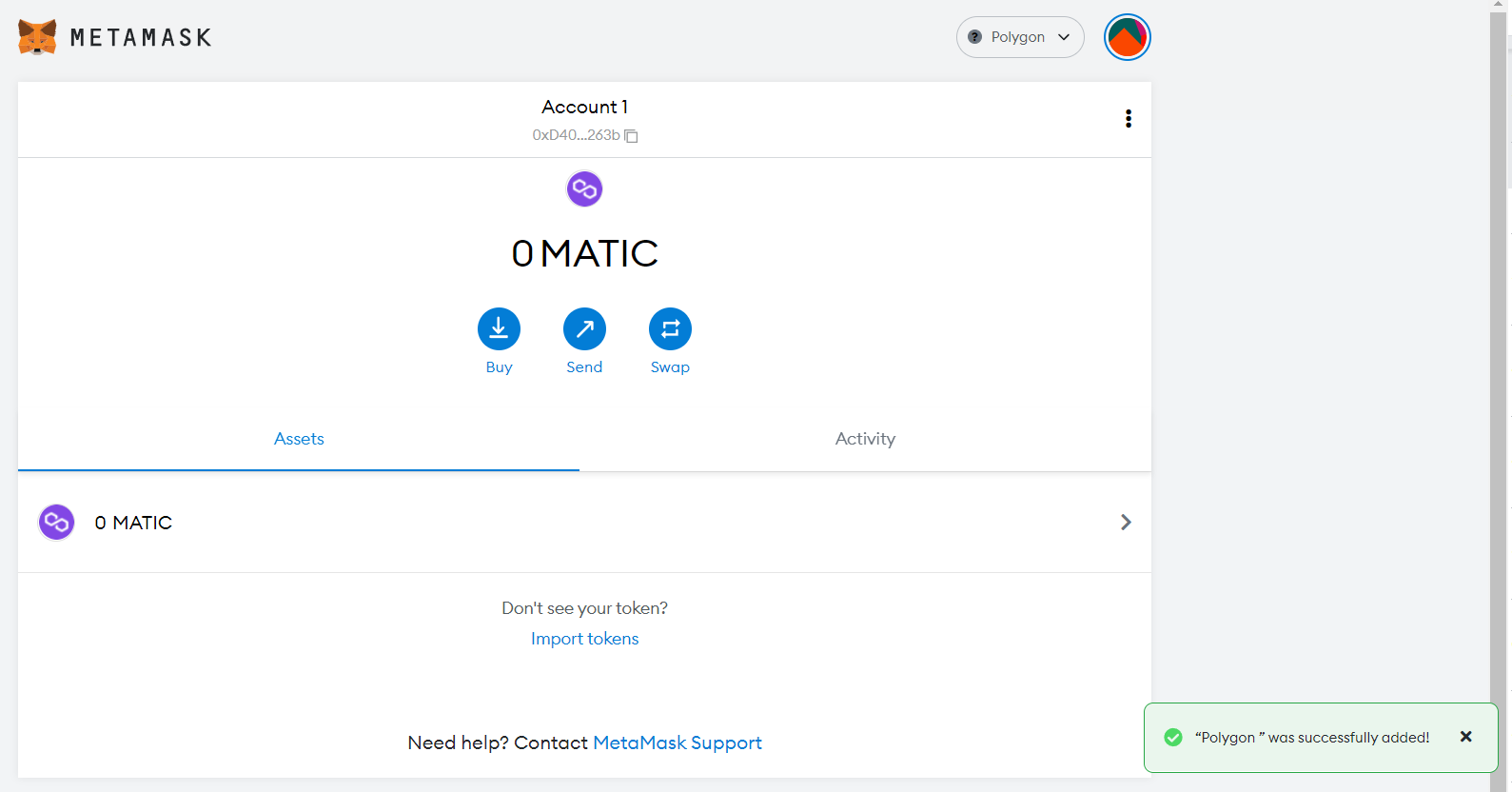 5. There you have it! You are now ready to transact on Polygon. If you wish to retrieve your wallet address, click on the string of letters & numbers under your Account Name and the address will automatically be copied. Let's get those NFTs!
Viewing Your NFTs in Metamask
As the chrome plug-in for Metamask does not allow you to view NFTs directly in your wallet, you will have to setup the Metamask application on your mobile to view your NFTs in your wallet.
Download Metamask (Andriod/IOS) and open the application on your mobile.



Click on Get Started




Import your account using the Secret Recovery Phrase as per the instructions above and set a password. You should now be able to view your sync-ed wallet via the mobile application.

Once your account has been imported, you will have to setup the Polygon Network on your Metamask mobile application.
Click on the top left corner to open the menu and select "Settings"



Click on "Networks"



Click on the search bar at the top and select "Polygon Mainnet"




Approve the addition of the Polygon network

Congratulations! You have setup the Polygon Mainnet in your wallet. Just a couple more steps to viewing your NFTs.
Under the Polygon Mainnet segment of your wallet, select the NFTs tab and "Import NFTs"



Under the address box, copy the contract address of your NFT collection (Viewable from Polygonscan.com)
Congratulations! You will now be able to view your NFTs in your metamask mobile wallet.